A Hero Dies … and Lives On and On…
My cousin Frederick B. Fay died on August 20, and the world both grieves and delights. For Fred — who lived most of his life in a wheelchair or wheel bed — was a hero of great influence. If you or a friend or relative of yours with physical impairments can use public transportation to get where you want to go, thank Fred. If you are grateful for public buildings that are now handicapped accessible, thank Fred. If you are able to live a life of quality despite physical limitations, thank Fred. If you believe that ALL Americans should be able to enjoy our country's blessings — regardless of race, age, gender, or physical capabilities — thank Fred.
As we consider the heroes of 9/11 (about which I'll be writing in the next week), let us also give thanks for the heroes we know, up close and personal. These are the heroes who change our everyday lives by the courage they show and the lives they improve. They are soldiers and firefighters and doctors and teachers … and cousins. They are people who, by the power of their passion and the force of their "irrepressible optimism" (a phrase commonly used to describe his indomitable spirit) break through all of the usual crud and improve the world in dramatic ways.
My brother, Peter Wright (an attorney specializing in special education law) and his wife Pam are more skilled  at updating websites and blogs and they have  posted several articles that tell of the power of Fred.  (See below.) Or you can wait until October 27 to see the film "Lives Worth Living" on PBS that will feature Fred and others in the disability rights movement.
Here are Peter's comments:
When Fred was 17, he launched his disability advocacy career. Today Fred is widely recognized as one of the most significant leaders in the disability rights and independent living movements in the nation.
As you read this story and follow the links, you can hear Fred tell his story. 
As a teenager, Fred was an accomplished gymnast. At age 16, he fell from a trapeze and landed on his head, suffering a severe spinal cord injury. Despite his injuries, Fred was determined to live a full life. He wanted to show that a person with quadriplegia could be active, own an apartment, drive a car, get married, have children, and earn a Ph.D. In the video links below, you'll see and hear Fred tell his story.
Fred accomplished his dreams, while also working to secure unprecedented access to civil rights for Americans with disabilities.
As a disability policy adviser to the Administration and Congress, Fred was instrumental in winning passage of Sections 503 and 504 of the Rehabilitation Act of 1973, the Education for All Handicapped Children Act, the ADA of 1990, and the IDEA of 1997.
When President Johnson invited Fred to the Rose Garden for the signing of the the Urban Mass Transportation Act 1964, his wheelchair had to bebumped up the steps - the White House was not accessible.
"Lobbying to get access for the disabled became his life's work, achieving it has become his life's triumph."
At home in Washington, DC, Fred found "every single curb was like a Berlin Wall telling me that I was not welcome to travel farther than a block." When Fred read about the new DC subway system to be built he thought "Why don't they build it so that everybody can ride it?…"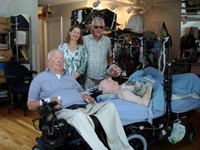 Fred's life proves that one man can change the world, even though he has to lie flat on his back just to stay alive.

Lives Worth Living - In this trailer, Fred as he tells you about his life after a devastating spinal cord injury, and his alliance with a small group of dedicated activists who formed the Disability Rights Movement and helped drive the nation towards equal rights.
An Incomparable Tinkerer
Fred "assumes no barriers in how innovative he can be in designing the technology in his environment." – Judy Brewer, Director of the Web Accessibility Initiative of the World Wide Web Consortium.
Fred was a pioneer in the development of assistive technology and has been instrumental in the development of adaptive computer technology. For millions of people with disabilities, Fred's innovations have provided access to the world around them.
UC Berkeley's Bancroft Library has recorded the stories of individuals who have made significant contributions to disability rights and the independent living movement. Read more about Fred here…
Fred Fay: Community Organizer and Advocate for Equal Access and Equal Rights
(This paragraph revised on 8/20/2011) If you would like to send Fred's family a note of thanks, please send an email to:
thankyou.fred | at | wrightslaw.com
Tags: disability rights, Fred Fay, Frederick B. Fay, heroes